Balrog Marine Corps
Talk

0
119pages on
this wiki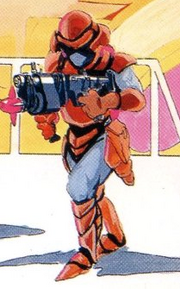 The
Balrog Marine Corps
(バルログ海兵隊員) is a minor stage enemy from the first
Strider
and most of its ports. They are known as the
Ballog Seamen
in the English manual of the
Mega Drive
port. A pallete-swap variation also appears in the
final stage
of the game, simply referred to as
Soldier
(兵士).
[1]
Due to the return of the Flying Battleship Balrog as a stage location in Strider 2, an updated version of this enemy type makes a reappearance as well. This version of the Balrog marines sport a new designed uniform, weaponry and methods of attack.
Information
Edit
Strider (CPS-1)
Edit
Stats
Enemy Type:
Human
Hit Points:
1 HP
Score:
100 PTS
Appears in Stage 3 (Flying Battleship Balrog) and Stage 5 (The Third Moon)
Basic regular soldiers that conform the crew aboard the Flying Battleship Balrog[2]. They wear special full-body powered armor and helmets that cover their whole face, which gives them a sort of robot or alien-like appearance. Their weapon of choice is a laser rifle with a grenade launcher attached on top.[2] Attacking in groups, the marines run constantly around Hiryu, stopping only to shoot straight at him or, if far enough from him, attack with a grenade shot which flies in an overhead arc.
Soldiers with a gold-colored variant of their armor appear in the Third Moon, serving as Grandmaster Meio's personal defense army. Outside of their gold-colored armor, they behave identical to their Balrog brethen.
Strider 2
Edit
Stats
Enemy Type:
Human
Hit Points:
1 HP
Score:
600 PTS
Appears in Stage 4 (Flying Battleship Balrog), Scene 1 and 6.
The marine corps aboard Light Sword Cypher's upgaded Flying Battleship Balrog, under the orders of the Squad Leader. The new battleship marines discard the armored look of their predecessors for a mostly blue uniform with white shoulderpads, black greaves and a visor. They now wield a smaller personal gun, which doubles as an electric taser weapon for use in close quarters.
The Balrog marines tend to shoot only when Hiryu is at a certain distance, while they use the taser when confronted up-close. Both attacks are, however, very slow in execution; specially the taser, as it requires a second of charging up before the attack starts, making it a very telegraphed and easily avoidable move.
Plasma Gun Marine
Edit
Stats
Enemy Type:
Human
Hit Points:
1 HP
Score:
600 PTS
Appears in Stage 4 (Flying Battleship Balrog), Scene 2.
The Plasma Gun Marine (official name unknown) is a special variation of the normal marine corps. These soldiers carry around a large plasma gun, apparently powered up by a backpack strapped onto their back. As soon as Hiryu is in their line of sight, they constantly shoot a yellow, small plasma projectile at him, only pausing briefly between shots. If the orb hits its target, they will raise their fist in celebration before restarting the attack.
Whereas the enemy is stationary, he's usually backed up by several of the floating mines released by the Minelayer, which restricts Hiryu's jumping space and makes the projectile attacks harder to evade.
References
Edit