Capcom Classics Mini-Mix

Cover
Information
Developer:
Sensory Sweep
Publisher:
Capcom
Release Dates:
September 19, 2006
Capcom Classics Mini-Mix is a game compilation developed by Sensory Sweep and published by Capcom for the Game Boy Advance handheld console. Revealed at the May 2006 E3 event[1], the game is a compilation of three of Capcom's classic NES video games. Unlike Capcom Classics Collection Volume 2, this compilation includes no extras or bonus content.
Capcom Classics Mini-Mix was not released in Japan nor Europe, remaning a North American exclusive.
Game List
Edit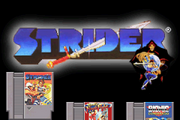 Mini-Mix
includes the first (and, as of this writing, only) rerelease the NES version
Strider
received since its original 1989 release. The included version is a perfect emulation of the original game and presents no differences, which unfortunately means it keeps its infamous broken English translation and number of glitches and bugs.
The "Blue Dragon"/Menu music theme from Strider is used as the main theme in Mini-Mix's Title and Select screens. The artwork in the logo used to represent the game in the Select screen, however, is actually the English flyer art from the Arcade game. This artwork depicts Hiryu facing Grandmaster Meio, a character who is not featured at all in the NES Strider.
References
Edit