Cypher
Talk

0
119pages on
this wiki
The
Cypher
(サイファー, alternatively translated as
Cipher
[1]
or
Sypher
[2]
) is the iconic weapon of the
Strider
franchise, appearing on all its different incarnations, and serving as
Hiryu
's signature weapon.
The Cypher, also known as the Light Sword Cypher (光剣サイファー)[3][4][5], is a highly advanced melee weapon employed by the Striders. It looks mostly like a broadsword in shape and size, but it's hilt is similar to a tonfa, having a short handle perpendicular to the main grip. The weapon makes use of plasma energy, releasing it from an opening located on the tip of the edge, in order to greatly enhance its cutting power[6]. Because of the speed at which the blade travels, it gives off a high pitched sound whenever it is swung. This weapon is only issued to those agents who reach the elite Special A-Class[6], and it's said very few members of the group are actually able to properly handle it[3][4]. It is the favored weapon of Hiryu[3][4], and he's become known as an expert on its use, being said that no one can surpass him on its mastery.[7]
Abilities
Edit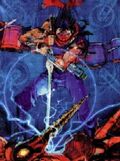 The Cypher can generate plasma energy and use it in a number of ways. Its main use is to generate a blade of accelerated high-voltage plasma particles, capable of cutting through any material
[3]
. Its cutting power is such that it is said to be able to go through ceramic armor as if it were simple wooden boards
[8]
. The plasma energy can also be charged up and dispersed in different ways: it can be concentrated into a plasma projectile, a technique known as Plasma Arrow
[1]
, or released in the form of plasma waves that home in on nearby enemies
[9]
. The effective range of the plasma blade can also be extended for a short period of time. While a very powerful weapon in itself, its difficulty to properly handle it is cited as its main drawback.
[3]
Activating the plasma energy generates high-voltage electricity in large amounts, making it a dangerous weapon to use near bodies of water[10]. The electric current's voltage can be adjusted and reduced, though the lowest level is still strong enough to knock out crocodiles and temporarily paralyze a person.[11]
The Cypher can also be transformed into a throwing weapon effective for long range attacks. Activating this option makes two curved prongs to appear on the sides of the edge, and allow the Cypher to return to the owner's hands once thrown, much like a boomerang would.[12]
Variations
Edit
There exist a few variations of the basic Cypher, though whether they are commonly issued or are custom-made by their users is unknown.
Range Cypher
Edit
An unique variation of the Cypher used by renegade Strider Hien. It is a double-edged weapon, consisting of two smaller Cyphers which can be attached by the hilt to form a single weapon. It is also known as the Geometrical Cypher (ジオメトリカル・サイファー), due to the variety of forms in which both Cyphers can be adapted into.
Form 1 - A basic form. Both Cyphers are used separately as normal Cyphers would. The weapons work identical to normal Cyphers, making for a deadly twin-sword style. This form is mostly used in close-quarter combat.
Form 2 - A form geared towards defense. Both Cyphers are joint together in a straight line, and by spinning them fast they become a shield capable of blocking any attack. This form is also used when the weapons is kept on its mount.
Form 3 - The most characteristic form of this weapon. Both Cyphers are joint by the hilt in the form of a boomerang, which can then be thrown for a long distance attack. The Cyphers will both target the nearest enemy and return to its user afterwards. It's possible this form is an upgrade from the Cypher's "throwing mode" as seen in the manga.
"Long" Cypher
Edit
A variation of the basic design used by Vice Director Matic, this is basically a Cypher twice its normal length. Outside of the obvious advantage on reach, this weapon doesn't seems to have any unique ability or be stronger than a common Cypher. Besides the length, the handle of this Cypher is also altered, sporting a sword-like grip instead of the L-shaped hilt.
Sweep Cypher
Edit
Seen in the Mega Drive Strider Returns, a "new" simple variant whose only difference with a common Cypher is in the shape of the plasma arc.[13]
References
Edit
↑ Capcom (1999). 37th JAMMA Show Line Up Flyer
↑ 3.0 3.1 3.2 3.3 3.4 Capcom (October 24, 2006, PlayStation). Gamebook: Strider Hiryu (Japanese). Pg. 42. ISBN 4-86233-076-2.
↑ Capcom. Official Site for Strider Hiryû 2
↑ 6.0 6.1 Wada, Tatsumi (Nov. 10, 1989). Strider Hiryû. Chapter 1, Pg. 38. Kadokawa Shoten. ISBN 4-04-713009-5
↑ Wada, Tatsumi (Nov. 10, 1989). Strider Hiryû. Chapter 4, Pg. 124. Kadokawa Shoten. ISBN 4-04-713009-5
↑ Wada, Tatsumi (Nov. 10, 1989). Strider Hiryû. Chapter 1, Pg. 39. Kadokawa Shoten. ISBN 4-04-713009-5
↑ Capcom (2000, PlayStation). Strider Hiryû 1&2 (Japanese). Instruction Manual, Pg. 4
↑ Wada, Tatsumi (Nov. 10, 1989). Strider Hiryû. Chapter 4, Pg. 144. Kadokawa Shoten. ISBN 4-04-713009-5
↑ Wada, Tatsumi (Nov. 10, 1989). Strider Hiryû. Chapter 4, Pg. 150. Kadokawa Shoten. ISBN 4-04-713009-5
↑ Wada, Tatsumi (Nov. 10, 1989). Strider Hiryû. Chapter 4, Pg. 130-132. Kadokawa Shoten. ISBN 4-04-713009-5
↑ U.S. Gold (1994, Mega Drive). Strider Returns: Journey from Darkness (English). Instruction Manual, Pg. 4