The Giant Main Gun (巨大な主砲)[1] is a weapon found in the third stage of Strider. In the English manual for the Mega Drive port, the weapon is dubbed The Eliminator, a.k.a. the "monster cannon".[2]
Information
Edit
Stats
Enemy Type:
Turret
Hit Points:
1 HP
Score:
N/a
Appears in Stage 3 (Flying Battleship Balrog).
The Giant Main Gun is one of the two largest-caliber cannons installed in the Flying Battleship Balrog. Also called the "1st Main Gun", it is a large green cannon found in the front of the battleship. The Balrog has a total of 6 Main Guns, numbered 1 through 6, in addition to more than a dozen of smaller cannons and machine gun seats.[3]
1st Main Gun (

第一主砲

): A triple-barreled giant cannon installed in the front of the Balrog. This is the only Giant Main Gun Hiryu destroys in his mission.
2nd Main Gun (

第二主砲

): A triple-barreled giant cannon installed in the back of the Balrog, being identical in size and power to the 1st.
4th Main Gun (

第四主砲

): A triple-barreled cannon installed at the top of the Balrog, above the 1st and right in front of the Command Tower. It's smaller than the 1st and 2nd cannons.
5th Main Gun (

第五主砲

): A double-barreled cannon installed in the front of the Balrog, in-between the 1st and 4th cannons. It's not as large as the 1st, but still bigger than the 4th.
3rd and 6th Main Gun (

第六主砲

): Two double-barreled cannons installed at both sides of the Balrog's tail. They are identical in size to the 5th Main Gun.
Once Hiryu boards the Balrog's exterior, he eventually comes across the 1st Main Gun. The cannon shoots a large blast as soon as Hiryu approaches it, and then relases smaller "Light Bullets" in rows of three from offscreen[1]. Hiryu can easily slide under the projectiles, and then destroy part of the cannon with a single slash of his Cypher, making a hole in the Balrog's hull from where he infiltrates its interior.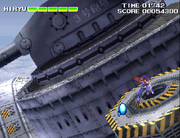 Light Sword Cypher
's
Flying Battleship Balrog
has a much fewer set of installed weaponry, but they make up for it with their increased firepower. This Balrog has a set of 3 double-barreled, giant cannons dubbed "Gun Turrets". These are numbered from 1 to 3, the first two installed in the battleship's front, and the third installed in its tail.
Though Hiryu doesn't face or destroy any of these cannons during his mission, he faces off against the Minelayer machine in front of the 3rd Gun Turret (3号砲塔).
References
Edit
Ad blocker interference detected!
Wikia is a free-to-use site that makes money from advertising. We have a modified experience for viewers using ad blockers

Wikia is not accessible if you've made further modifications. Remove the custom ad blocker rule(s) and the page will load as expected.