Grandmaster Meio
Talk

0
169pages on
this wiki
Grandmaster Meio
Stats
Japanese:
冥王(めいおう)グランドマスター
Meiou Gurandomasutâ
Debut:
Game: Strider (CPS-1)
Voice Actors:
Kôji Totani (PC-Engine)
Kan Tokumaru (Strider 2)
Tetsuo Mizutori (Namco x Capcom)
Profile
Gender:
Male
Hair Color:
Bald
Eye Color:
Black
Nationality:
None (comes from a distant nebula)
Fighting Style:
Various forms of energy projection
Creation of several "lifeforms"[1]
In-Game Information
Enemy Type:
 ?[1]
Hit Points:
24 HP (1)
Score:
5000 PTS (1), 130.000 PTS (2)
Grandmaster Meio (冥王グランドマスター, alternatively Meiou/Meioh, meaning Lord of Darkness) is the main antagonist of the series, starting in the first Strider coin-op and returning in this capacity for all its sequels. He's always seen as a cloaked figure floating in mid-air, with no visible legs; and with long, claw-like fingernails. In Strider 2, his face is completely covered by bandages, and his eyes glow through them.
A being of nearly godlike powers, he suddenly appeared on Earth in the year 2042 and became its ruler in only 5 years[1]. Most information about Meio's origins are a mystery[1][2]. It is said he hails from a distant nebula, and has come to Earth coveting the planet's sheer force of will[3]. Even after becoming the absolute ruler of the world, Meio's ambition desired more and he proceeded to seek the secret arts to create life at will, eventually discovering them after pouring all the scientific power of the world in the research of the organisms living in the Amazon[4]. According to Strider Hien, he's the creator of the world and everything on it, including the ruins where he was sealed and the Striders themselves[5]. 
Meio shows a great level of intelligence, being able to create both organic and technological wonders with apparent ease, and cunning enough to obtain the support of earthbound military and political figures. All his subordinates are profoundly devoted and loyal to him, but even them are forbidden to speak his name[6], instead referring to him respectfully as "Him/That Man" (あのお方, translated as either "Master" or "Lord" in the localizations).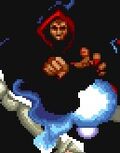 Meio suddenly appeared out of nowhere in the year 2042, while the world was engulfed in war and chaos. Starting from the
Kazakh
Soviet Socialist Republic, he started a full-scale worldwide invasion. Easily overcoming any attempt to fight him back, Meio eventually became the absolute ruler of both eastern and western countries in a mere 5 years time, taking control of the entire world's military and scientific power, and forging a corrupt military contingent to sustain his rule. Gathering the state-of-the-art technology he builds an artificial satellite, the
Third Moon
, which is launched into Earth's orbit between the planet and its natural moon. From here, he intends to use it as the center of his dictatorship and further his own plans. But even after having all the world at his command, his ambition was yet to be satisfied. Through his research in the Amazon forest he is able to decipher the secret to create life, and with the creation of the
Anti-Gravity Device
by his research teams, Meio's most diabolical plan, "The Third Moon Plan" (「THE THIRD MOON」計画)
[2]
, is set into motion: by using it to lift up the Third Moon off Earth's atmosphere, he will burn all life on the planet, which he'll then repopulate with his own creations.
[7]
[2]
He has, however, failed to take the Striders group into account. With humanity in the brink of extinction, the rebel groups against Meio contract their services and they send Strider Hiryu with a single directive: stop Meio's ambition. Hiryu infiltrates Kazakh's Capital City and well known base of Meio, St. Petersburg, as the first step of his investigation. The Grandmaster sends his mechanical armies, as well as hired assassins, to take care of this intruder. But Hiryu mows down any opposition and continues ahead, eventually bringing down Meio's greatest ace: the Flying Battleship Balrog.
It was a matter of time until Hiryu discovered the Third Moon. Any opposition fell under his blade, until he finally faces the madman in the final confrontation. And against all odds, Hiryu is able to bring the Grandmaster down.

For an unknown amount of time, Meio has been sealed in a tomb beneath ancient ruins in the region of "
El Dorado
". Through the act of renegade Strider
Hien
, he's set free of his confinement to take control of the world once again. With the support of
Light Sword Cypher
, who has awaited for his return, Meio set up a rebuild Third Moon as his base and continued ahead with his plans, now focusing in genetic experimentation.
Even though this time he took no risks and had the Striders eliminated, Hiryu survived and remained active as he proceeded on his last mission to kill him. But while Hiryu confronts his subordinates on the surface, Meio decides to dispose of Earth and search for another planet to start his experiments anew. He creates the bio-organic weapon Caduceus to serve as his "path to the stars", a vehicle to carry the seeds of his artificial lifeforms as they travel the galaxy in search of another planet[8]. Once Hiryu arrives at his chamber in the Third Moon, Meio proclaims he'll eliminate him before destroying the world. Defeated in battle, Meio unleashes Caduceus in a last-ditch effort to terminate Hiryu, but not even its immense power is enough to stop him, and is finally destroyed.
Injured and at Hiryu's mercy, Meio spoke cryptic words, wondering if Hiryu was the same one who, two thousands years before, thwarted his plans. Hiryu, however, pays no mind to these words and slashes Meio down for good.
For several years, the mysterious and all-powerful Grandmaster Meio has been ruling over the world with an iron fist, controlling it from beneath his base at "Kazakh City", defended by his loyal generals.
In the year of "Meio 0048", the Striders sent their best agent, Hiryu, with a single mission: to eliminate Grandmaster Meio.
 (Note: this game has been removed from continuity.) 
Grandmaster Meio (referred as The Master in-game, and Evil Master in the manual) returns to enact a plan of revenge against the Striders. He poises himself over the planet with his Prison Ship threatening to turn it into a "black hole". He also kidnaps Strider Hinjo's fianceé, Lexia, and dares him to come to her rescue. Meio (or a fake, as the manual implies) confronts Hinjo in the Castle Metropolis, where Hinjo is victorious. Meio awaits for Hinjo in his spaceship, resorting to threats about "sending him to Hades". They finally face off in the ship, where Meio repeats the exact same fighting strategy, so no wonder he lost again.
Meio is only present in-game in the Genesis and Game Gear ports. In the Master System and all computer versions of the game, he's seen in the starting screen, but makes no further appearances. His boss duties are handled by the leader of the terrorist group, a man with a jetpack and a rifle in hand.
Skills and Abilities
Edit
Grandmaster Meio doesn't appear to hold any level of superior physical strength, and instead relies on his intelligence and vast powers to attack his enemies from afar. Among his known abilities, Meio has the power to levitate and move through the air at high speed, a variety of devastating energy attacks unleashed from his hands and the ability to instantly teleport from one location to another. But what's likely his best known ability is the power of creation, the ability to create organic "lifeforms" through lightning shot from his hands[1].
Meio is shown having an apparent unlimited control over his ability to create life. There seems to be no limit in the complexity or nature of the lifeforms, as he can produce both simple forms, (i.e.,fish) and more complex forms (i.e.,dinosaurs)[9] and even humans[7], and he's also shown able to create mechanical creatures such as Lago and organic monsters like Caduceus. Using this ability in combat, Meio restricts his enemies' movement by filling out the area with several forms in constant movement attacking their target, which in turn makes Meio's own attacks harder to dodge.
In his original appearance, Meio's arsenal was limited to only his life-creating ability. All his other means of attack are from Strider 2.
Creation of Life: Meio's signature ability. Meio extends his arms and releases a green lightning bolt, which travels through the air in an erratic pattern, finally stopping and generating a set of creatures on the spot. In Strider 2, he raises both open palms above his head, which glow with energy before the lifeform is created at an specific point of the stage. Each version creates different forms:
Lifeforms in Strider include:

Wolves: Two gray wolves are generated from the lightning bolt, jumping out or pouncing as soon as they are summoned.
Piranhas: A group of 6 Piranhas which fly out in several directions after appearing. They appear in different formations and fly out at random directions, making them difficult to predict and evade.
Pteranodon: A set of 2 Pteranodon, which fly in a straight line at either the right or left side of the screen.

Lifeforms in Strider 2 include:

Gravity Organism "Graveleo": A square-ish, hopping "leg" with a lion's head that's actually the shoulder joint of Caduceus. After being summoned, it starts leaping from one platform to another, periodically releasing discs of energy straight below him.
Plasma Organism "Ardoravis": A red flaming orb, this form is the tip of Caduceus' "arms". This construct appears at one side of the screen and quickly flies to the other side, trying to hit Hiryu on its way.
Electromagnetic Organism "Fulmenorca": A floating transparent fish-like construct with a red core. It floats through the air, and shoots a lightning bolt once it comes close to Hiryu. The bolt is aimed at Hiryu's position, and last a few seconds before disappearing.
Teleport: Meio disappears surrounded by a white aura, then reappears in another location. It's usually done to approach Hiryu and attack, but also as a way to get away if hit.
Energy Orbs: Meio unleashes a small orb of energy, with weak homing capabilities. The orb aims at Hiryu's position, but it's somewhat slow and easy to avoid. Once it hits either Hiryu or a platform, it produces an explosion on the spot. Meio has two different forms of throwing it: he either creates it with one hand and throws it with a hand gesture, or creates it by putting both open hands together in front of him.
Lightning Beam: Meio puts both open hands together, and unleashes a giant lightning beam straight below him. Usually done when Hiryu is close or directly below Meio. Being a slow attack, it can be avoided and countered.
Design Notes
Edit
According to Isuke, Grandmaster Meio was inspired by an image he saw in Tolkien's The Lord of The Rings[10]. Before this became known, however, it was a popular belief that Meio drew inspiration from Emperor Palpatine from the Star Wars franchise, noting several parallels between the two characters such as their old age, being covered in a dark cloak, shooting lightning from their hands, and their similar stations (the Death Star and the Third Moon).
Other Appearances
Edit
Game Appearances
Edit

Grandmaster Meio appears as a major villain in this crossover game. His design is taken from the original coin-op, and his main attack technique is the summoning of lifeforms. Standing as usual in his base at the Third Moon, Meio's plans continue along the lines of replacing humanity with his own creations. He's aided by Strider Hien,
Solo
and the
Kuniang M.A.
, as well as Druk, Shtrom, Shtrom Jr. (villains from Capcom's Beat'em Up
Captain Comando
), MegaMan Juno (from the
Mega Man Legends
series),
M. Bison
and his soldiers (from the
Street Fighter
series).
He only appears in person during the final stages of the battle, revealing his connection with the game's main antagonist Saya, and his bid to not only take Earth, but all planets in the universe afterwards. Meio has the strange privilege of being the second-to-last boss enemy to be faced before the game' final stage. He's finally defeated, and eliminated by Hiryu after a short exchange.
Capcom Quiz: Hatena? no Daibouken
Grandmaster Meio appears in this Game Boy board-themed quiz as the final boss in the Strider-themed board course. As a boss he has 7 life units, which means the player needs 7 correct answers to win. Meio also appears if the player gets a Game Over while playing the Strider board, taunting the player by saying "Come back when you're ready!".
SNK vs. Capcom: Card Fighters
Grandmaster Meio appears in the second installment of this SNK/Capcom crossover card game. He appears in the artwork for a "Reaction" type card (sort of a counter card) known as "Genesis" (てんちそうぞう).
Ultimate Marvel vs. Capcom 3
Grandmaster Meio appears as one of the 104 ability cards found in the game's DLC mode, "Heroes And Heralds Mode". He's a card of "A" rarity (uncommon), and provides an auto-recovery ability for both the health and energy bars.
Grandmaster Meio first used projectile orbs during his boss battles in the Master System port of Strider and the Game Gear port of Strider Returns respectively, predating their use in Strider 2.
Some magazine reviews of the time listed Meio's name erroneously as Lord Eurasia, probably a mistake born from his well-known line: "He shall never leave Eurasia alive!"
References
Edit
↑ 1.0 1.1 1.2 1.3 1.4 Sega (Sept 29 1990, Mega Drive). Strider Hiryû (Japanese). Instruction manual, Pg. 27
↑ 2.0 2.1 2.2 Capcom (24 Oct 2006, PlayStation). Gamebook: Strider Hiryu (Japanese). Pg. 42. ISBN 4-86233-076-2.
↑ Sega (Sept 1 1990, Mega Drive). Strider (English). Instruction manual, Pg. 3
↑ Staff (30 Nov 1992). "Capcom Game Street". Gamest Extra: All Capcom (81). Pg. 42-45.
↑ Capcom (24 Feb 2000, PlayStation). Strider Hiryû 1&2 (Japanese). Mission 0: Investigate the Ancient Ruins
↑ Capcom (24 Feb 2000, PlayStation). Strider Hiryû 1&2 (Japanese). Instruction manual, Pg. 1
↑ Staff (June 2000). "Strider Hiryu 2: Setting Document (Part 2)" (Japanese). Monthly Arcadia (06). Pg. 181.
↑ Capcom (24 Oct 2006, PlayStation). Gamebook: Strider Hiryu (Japanese). Pg. 13. ISBN 4-86233-076-2.
↑ Jones, Darran (24 Apr 2010). "The Making of... Strider". Retro Gamer (76). Pg. 51.