Mecha Pon
Talk

0
119pages on
this wiki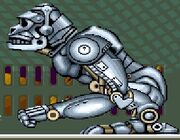 Mecha Pon
(メカポン), also written
Mecha Pong
(メカPONG)
[1]
, is an enemy boss character from the
original coin-op
and all its ports. It appears as the sub-boss in the
second stage
, and once again as part of the boss rush in the
fifth and final
stage, likely recreated by the powers of
Grandmaster Meio
[2]
. Its name and design are an homage to Toho's movie character
Mechani-Kong
.
[3]
Mecha Pon is a large-scale gorilla-type robot equipped with hydraulic motor functions[1], which stands guard in the entrance to a mountain-side secret complex found in the Siberian wilderness. It can only move in a squatting position, and its only mean of attack is by punching with its left arm.[4]
This robot was built by the Kazakh research teams, following their second banishment to Siberia after the creation of the Anti-Gravity Device[5]. Created as an experiment after they decided to study oil-based hydraulic transmission functions again, Mecha Pon is capable of moving and imitating real animal-like expression through its hydraulic pumps, but it's not actually well suited for combat situations.[5]
Information
Edit
Stats
Enemy Type:
Robot
Hit Points:
24 HP
Score:
800 PTS
Hiryu first comes against Mecha Pon in the entrance of the mountain-side secret base in Siberia. An easy enemy, the giant gorilla robot has a very simple pattern: it constantly hops forward and backwards, and attempts to strike Hiryu with his left punch, which can reach quite a distance when fully stretched out. At some times, Mecha Pon strikes its chest twice with its hands instead of attacking Hiryu, leaving itself open for attack.
Even after destroying it, one has to look out for two extra hazards: the ensuing explosion, as it sets the whole room ablaze; and Mecha Pon's disembodied head, which remains a few seconds before exploding and sending flames at all directions.
Later on, Hiryu runs into Mecha Pon again in the Third Moon, as part of a group of enemies Meio resurrects and sics at him. Mecha Pon is easily destroyed once again, as it's identical to the previous fight. This time, however, neither of its after-destruction hazards happen.
References
Edit
↑ 1.0 1.1 Capcom (24 Oct 2006, PlayStation). Gamebook: Strider Hiryu (Japanese). Pg. 13. ISBN 4-86233-076-2.
↑ Sega (Sept 29, 1990, Mega Drive). Strider Hiryû (Japanese). Instruction manual, Pg. 27
↑ Jones, Darran (24 Apr 2010). "The Making of... Strider". Retro Gamer (76). Pg. 51.
↑ Sega (Sept 29, 1990, Mega Drive). Strider Hiryû (Japanese). Instruction manual, Pg. 22
↑ 5.0 5.1 Staff (30 Nov 1992). "Capcom Game Street". Gamest Extra: All Capcom (81). Pg. 42-45.