Strider (CPS-1)
Talk

16
119pages on
this wiki
Strider
ストライダー飛竜

Arcade Flyer
Information
Developer:
Capcom
Publisher:
Capcom
Release Dates:
March 7, 1989 (JP)[1]
March 7, 1989 (US)[2]
Staff
Designer(s):
Kouichi Yotsui (Isuke)
Composer(s):
Junko Tamiya (民谷淳子)
Artist(s):
Shoei (illustrations)
Other Releases
Ports:
Amiga, Atari-ST, Amstrad-CPC, ZX-Spectrum, Commodore 64
PC-DOS, Mega Drive
Master System, Sharp X68000
Turbo Duo, PlayStation, Mobile Phone, Virtual Console
Compilations:
Capcom Classics Collection:
Vol. 2 (PlayStation 2, X-Box)
Remixed (PSP)
Strider, known in Japanese as Strider Hiryû (ストライダー飛竜), is the first game in the Strider franchise, a side-scrolling action platformer released by Capcom for their CPS-1 arcade board system in 1989. The player assumes the role of Hiryu through five expansive stages (Kazakh, Siberia, The Flying Battleship Balrog, the Amazon and The Third Moon), overcoming obstacles and eliminating hordes of enemies to reach each stage's end boss. Vibrant, colorful graphics and a memorable soundtrack accompany the action at all times. The player advances by following any path but a straight line, facing both military forces and hired assassins out for Hiryu's head.
In the year 2048, the world is ruled by a mysterious intergalactic being known as Grandmaster Meio, who holds control of all technology and military on Earth and has created his personal base on an artifical satellite known as The Third Moon. Meanwhile, the oppressive regime of the Kazakh administration, themselves servants of Meio, has led to the creation of rebel forces, who clash with government troops in conflicts all over the world.
Eventually, these rebel forces sought out the services of a clandestine group known as the Striders, who were experts of espionage and assassination. The dangerous and most important mission, to eliminate Grandmaster Meio, is given to their youngest and most talented Special A-Class member, Hiryu. With the destiny of humanity in his hands, Hiryu makes his move and infiltrates Russia's Imperial Capital and center of Meio's power, Kazakh SSR.[1]
Strider has a simple layout: an eight-way joystick and two buttons, one each for attacking and jumping. The player has total freedom of movement, being able to jump in any angle and direction. Hiryu is very quick and easy to handle. By holding a direction before jumping, the player triggers cartwheel jumps to leap farther and move faster. Hiryu's most recognizable feature, however, is his ability to stick to any surface, using a sickle to cling onto walls and ceilings. The player can cling to any surface and freely move along its length; pressing up while clinging below a platform will flip Hiryu up onto its top.
Hiryu's health is represented as a three-unit lifebar positioned at the top left of the screen. Each unit absorbs one instance of damage. The player's number of lives and score are marked below and above the lifebar, respectively. A clock in the top center of the screen shows the time remaining for the player to complete the current section of the stage. Each stage has certain checkpoint areas where the timer resets and where the player respawns after losing a life.
Hiryu's primary way to attack is his
Cypher
, a sword-like weapon that, when swung, creates a plasma energy wave which damages on contact. The player can attack from any position (crouching, jumping, while clinging off ceilings or walls), as well as continuously by rapidly pressing the attack button.
Hiryu's other abilities include:
Sliding (スライディング) - By holding the stick down and pressing jump, the player can make Hiryu perform a quick sliding attack. This will eliminate enemies as well as going under certain hazards like projectiles.
Diagonal Jump (斜めジャンプ)[3] - Known as Cartwheel Jump in English[4]. By moving left or right and the Jump button, the player makes Hiryu perform a higher and longer jump that sends him flying forward, as he turns his body like a wheel.
Acceleration Jump - So named in the NES Strider. When Hiryu runs down an inclined slope, he speeds up. By taking advantage of this acceleration, the player can jump farther than normal. This event is used sparingly; the most memorable time being during the downhill "Big Run" section of Siberia.
Power-ups
Edit
Several items can be found in each stage hidden within special item containers which are lying around or carried by flying enemies. Enemies do not leave items after being destroyed, and not all containers hold items: these will instead grant either 200 or 400 points after being opened.
Item Capsule
(アイテムカプセル)

Item Box
(アイテムボックス)

The containers that are found throughout the stages that hold power-ups etc.

"Hi" Kanji Mark
(「飛」マーク)
Restores a life unit.

"Ryu" Kanji Mark
(「竜」マーク)
Upgrades the lifebar by 1 unit. Maximum possible is 5 units.

"Hiryu" Mark
(「飛竜」マーク)
Restores all life units.

Cypher
(サイファー)
Extends the Cypher's wave range temporarily.

Invincibility
(無敵)
Grants Hiryu temporary immunity. Once picked up, Hiryu will glow gold and leave afterimages as he moves. The invincibility lasts 30 seconds.

1UP Hiryu
(1UP飛竜)
Grants an extra continue. This item is only found in the 2nd stage, Siberia.

Option
(オプション)
Once picked up, an Option A will follow Hiryu. Finding a second one while still having the first will generate another.

Panda
(N/a)
A bonus item that grants 400 points. This item is only found in the 3rd stage, the Battleship Balrog. It's hidden behind a stack of bullets and disappears shortly after being uncovered.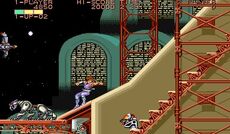 One of this game's unique features is the use of helper robots, described above as Options. The Options serve as support for Hiryu by attacking any approaching enemy. There are three types of Options: Option A (Dipodal Saucer), a small bipedal robot which moves around Hiryu and attacks with ring-shaped lasers; Option B (Terapodal Robo-Panther), a Saber toothed tiger-shaped robot which remains at Hiryu's side and lunges at approaching enemies; and Option C (Robot Hawk), which circles the air above Hiryu and dives down to destroy airborne enemies. Except for Option C, the Options are connected with one of Hiryu's life units, recognized by it changing from green to yellow, and are destroyed if said life unit is lost.
Development
Edit
Collaboration
Edit
Strider was part of a three-pronged collaboration between Capcom and artist circle Moto Kikaku, consisting of this game, the Strider Hiryu manga, and a game for the NES, all sharing the same name.[5] Tatsumi Wada from Motomiya Kikaku was put in charge of the manga; the "consumer version" was given to Masahiko Kurokawa; and Tokuro Fujiwara handed the coin-op over to the background artist from Ghouls 'n Ghosts and Bionic Commando, Kouichi Yotsui, choosing him because Fujiwara felt Yotsui had "really good negotiation skills."[6] Kenzou Tsujimoto, Capcom's CEO at the time, paid for the three men to stay at the Shinjuku Hilton, along with a fourth, unnamed marketing executive from Capcom.[7] Because they were developing an action game, Yotsui pushed hard for a futuristic ninja concept, drawing equal inspiration from both the Shinjuku skyline outside their hotel windows and ninja TV series from the 1960's. At one point, he found himself locked onto the Hilton's rooftop. He climbed down the side of the building to the fire escape, "desperately afraid" that he would "die from the fall", though he also couldn't stop thinking about the game, concluding that "anybody that wanted to do that kind of thing must be crazy."[6]
During the course of a week, they worked out all three projects' common thread: the year 2048, Kazakh as the initial location, and Hiryu as the main hero.[6][7] Afterward, Wada returned to Motomiya Kikaku. Yotsui and Kurokawa returned to Capcom's headquarters in Osaka, working together to flesh out the rough outline all had agreed upon in Shinjuku. They created Hiryu's design and sent it to Motomiya Kikaku in Chiba along with a few draft chapters.[7] Each team was then supposed to take this more fully-formed idea and adapt it to their assigned media.[5]
Despite this initial intent, Kurokawa and Wada's ideas wound up overlapping considerably. They developed an involved storyline that became the backbone of both the manga and the consumer version being produced for the Famicom.[7] They wanted Yotsui to follow their ideas, but Yotsui viewed it as a competition to see who could make the best game.[5] In particular, Yotsui wanted to take Ghosts 'n Goblins gameplay "to the next level", wondering how far he could take an action game "with one lever and two buttons". He felt it would be "impossible" to tell a complex story in an arcade game, as it would "destroy the gameplay".[7] He wanted to make "an adventure that stimulates the senses", and imagined the player "running, running, running to freedom". He believed that this type of game would best suit the coin-operated arcade format, not a plot-intensive storyline. Thus, the coin-op strayed somewhat from the original outline and built its own story.[7]
Inspiration
Edit
In creating the coin-op, Kouichi Yotsui drew inspiration from several sources. The multiple layers in Rolling Thunder suggested level design, and the helper characters in R-Type gave rise to the Option A's. Shirato Sanpei's Kamui Gaiden, whose ninja hero was accompanied by animal characters, suggested Options B and C.[7]
The non-player characters were also inspired by a variety of sources. The minor foes were originally intended to wear clothes, but most of these ended up getting cut from the final product. The only remaining example of this is the Rascal's fur hat. Tong Poo, the Kuniang M.A. team's leader, was named after a song from side two of Yellow Magic Orchestra's eponymous album, after they had first decided to make her a Chinese martial artist. Other major enemies like Solo, the bounty hunter, were introduced because Yotsui wanted to "show characters that didn't have a direct relationship with Strider or the Grand Master", in much the same way that Darth Vader's hiring bounty hunters in The Empire Strikes Back had. Yotsui felt this would "broaden the scope" of the game's world.[7] Additionally, Mecha Pon was an homage to Toho's Mechani-Kong; Grandmaster Meio was inspired, not by Emperor Palpatine as it might seem, but from Sauron, the Dark Lord of J.R.R. Tolkien's Lord of the Rings; and Lago was a bizarre pastiche containing the basic shape of a dinosaur, the clawing mannerisms of a chicken, and a head based off "the front of an F-16 fighter".[6]
To further enhance this feeling of a fully-formed world, Yotsui took the unusual step of reaching outside of his development team. Yotsui wanted "Strider to be able to run around an immense world that was filled with marvels", desiring "a really exotic mood", so he added short cinema scenes between stages to advance the story.[6] To voice the characters, Yotsui utilized the talents of a Capcom employee who had graduated from a "language academy" and a few of his friends. Their combined talents enabled the characters to speak in five different languages: Japanese for Hiryu, English for the Grandmaster and Solo, Mandarin Chinese for Ton Pooh, Russian for General Mikiel and Spanish for Captain Beard Jr. A sixth language, Swahili, was considered for the Amazon Tribeswomen, but Capcom objected against it on the grounds that portraying someone as primitive looked like discrimination.[5]
How to localize Strider was the source of some debate within Capcom. The overseas division was initially unhappy with the game's Japanese title, fearing it would confuse Western gamers. Yotsui came up with two alternate titles: Ninja Dynamics and Falcon, thinking that Hiryu's actions would remind the player of a bird of prey. Eventually this name change was seen as unnecessary, it was dropped, and the title was shortened to Strider instead; however, some posters with the Falcon logo were printed up and are still in existence.[7]
Position
In-Game
Full Name
OBJECT DESIGNER
S.THING♥
Shinji Sakashita (坂下眞司 Sakashita Shinji)
TAKE.PONG
TISSHU
MAKIZOE
TERY
TERABO
HISABO
KURIBO
Akemi Kurihara (栗原明美 Kurihara Akemi)
KOMSAN
GIN
SCROLL DESIGNER
TEIKI
RIE.POO
ZIGGY
RINMA
MARILYN
MORILYN
KINTARO
SOFT PROGRAMMER
T.MARUCHI
Yamauchi Toshihiro
TAE 25OR
Tae Komatsu (小松多恵 Komatsu Tae)
MIKKUN
Miki Toshihiko
TADAKEN
KANEKON
Kiyomi Kaneko (金子清巳 Kaneko Kiyomi)
DOROMPA.E
KA~KUN.Y
PLANNING ADVISER
ARTHUR
Tokuro Fujiwara (藤原得郎 Fujiwara Tokuro)
YOSSAN
Shinichi Yoshimoto
GAME PLANNER
ISUKE
Kouichi Yotsui (四井浩一 Yotsui Kouichi)
T.F'.S FIRST PLANNING ROOM (Tokuro Fujiwara's first planning room)
Reception
Edit
Upon its completion, Kouichi Yotsui felt that Strider wasn't anything that hadn't been done before.[7] He believed certain programmed elements, like Strobaya[5] and the Options[7], did not work as he had hoped. It was rumored inside Capcom that its production costs and delays had negatively affected sales.[5] Under the impression that Strider was an unsuccessful game[7], Yotsui left Capcom for Takeru (タケル), along with Akira Kitamura and Shinichi Yoshimoto.[8]
Nevertheless, Strider is fondly remembered, having spawned numerous fansites and retrospectives.[9][10][11] It was ported to virtually every home system then in existence. Upon its release, Electronic Gaming Monthly was impressed with the Genesis port, devoting portions of three separate issues to it and awarding it with Genesis Game of the Year 1990. It was also the winner of their "Best Graphics" category.[12] Brett Alan Weiss of All Media Guide called the Genesis port "a nice effort and a lot of fun for someone who likes to travel through a dark future Earth killing everything in his/her path with a giant sword", while also noting that "it does get a little repetitious using the same weapon over and over. And the sound your sword makes is annoying from the start. Even so, this is an exciting game."[13]
Capcom has made two separate attempts to continue the Strider franchise in Yotsui's absence, the first of which was Strider II/Strider Returns. Since Yotsui had gone in his own direction with his part of the project largely without input from Moto Kikaku, all of his game's unique (and uniquely recognizable) elements were Capcom's property, save one: the only element shared among all three projects, Hiryu. Capcom USA turned these elements (the Kuniang M.A. team, Solo, Grandmaster Meio, etc.) and the franchise over to U.S. Gold, who had ported the coin-op to home computers. They handed it off to Tiertex, who replaced Hiryu with another Strider and turned out an overly serious, serviceable game thanks to programming inexperience and limited design input.[14] U.S. Gold's marketing department attempted to lighten the game's spirit with the Genesis manual's story, but this was unsuccessful.
After the commercial failure of Strider Returns, Capcom did not touch the Strider franchise again until 1999, when Capcom Japan produced Strider 2. This title placed Hiryu in the starring role of his own series once more, but was poorly marketed and did not even sell well enough to warrant a second printing.
Influence
Edit
Strider's influence on the industry continues to be felt in both direct and indirect ways. Kouichi Yotsui has himself revisited its concepts twice: Mitchell Corporation's 1996 arcade game Cannon-Dancer (localized in the West as Osman), and Square-Enix's 2010 downloadable title, Moon Diver.
Other game companies have tried to make their own Strider: Atlus made a serviceable imitation for the SNES in 1993 titled Run Saber; the aesthetics of Team 17's Amiga game Assassin owes much to Strider; finally, Overworks' 2002 PlayStation 2 installment of Shinobi and Krome Studios' 2010 adaption of Blade Kitten bear more than a passing resemblance to Strider 2's gameplay.
More indirectly, the over-the-top action of Devil May Cry and Viewtiful Joe harkens back to Strider, particularly in their inclusion of the "boss rush". [6]
References
Edit
↑ 1.0 1.1 Capcom (in Japanese). Gamebook: Strider Hiryu. Capcom. PlayStation (24 Oct 2006). pp. 4-5. ISBN 4-86233-076-2.
↑ US PA0000416481, Capcom Company, Ltd, "Strider.", issued 22 June 1989
↑ Capcom (24 Oct 2006, PlayStation). Gamebook: Strider Hiryu (Japanese). Pg 10. ISBN 4-86233-076-2.
↑ Sega (Sept 1, 1990, Mega Drive). Strider (English). Instruction Manual, Pg. 8
↑ 5.0 5.1 5.2 5.3 5.4 5.5 Tane, Kiyofume (February 2009). "The Father of Strider Who Made the Game World Explode: Kouichi Yotsui Discography". Gameside (16). Translated by Gaijin Punch for Gamengai. Accessed 24 Oct 2010.
↑ 6.0 6.1 6.2 6.3 6.4 6.5 Jones, Darran (24 Apr 2010). "The Making of... Strider". Retro Gamer (76). pp. 48-53.
↑ 7.00 7.01 7.02 7.03 7.04 7.05 7.06 7.07 7.08 7.09 7.10 7.11 Scion; Dire 51 (24 April 2010). "Interview with Kouichi "Isuke" Yotsui". LSCM 4.0. Translated by Gaijin Punch. Accessed 24 Oct 2010.
↑ CRV (21 Aug 2009). "Company:Takeru". GDRI. Accessed 24 Oct 2010.
↑ Plasket, Michael. "Strider". Hardcore Gaming 101. Accessed 21 Dec 2009.
↑ Horowitz, Ken (31 May 2005). "History of: The Strider Series". Sega-16.com. Accessed 21 Dec 2009.
↑ Fahs, Travis (20 Aug 2008). "The Shrouded Past of Strider Hiryu". IGN. Accessed 21 Dec 2009.
↑ "The 1991 Video Game Buyer's Guide". Electronic Gaming Monthly, issue 15. October 1990.
↑ Weiss, Brett Alan. "Strider - Review". AMG. Accessed 21 Dec 2009.
↑ Scion (11 Feb 2010). "Interview with Allan Findlay". LSCM 4.0. Accessed 26 Oct 2010.