Strider (Turbo Duo)
Talk

0
119pages on
this wiki
Strider Hiryû
ストライダー飛竜

Cover Art
Information
Developer:
Dice Creative, Ltd.[1][2]
Publisher:
NEC Avenue[1]
Release Dates:
September 22, 1994 (JP)[1]
Staff
Designer(s):
Satoshi Ohno (大野 聡)[1]
Producer:
Toshio Tabeta (多部田 俊雄)[1]
Programmer(s):
Toyohiro Imagawa (今川 豊広)
Goro Takahashi (高橋 吾郎)[1]
Artist(s):
Yoshinobu Inano (稲野 義信) (Cutscenes)[1]
NEC Avenue's Strider Hiryû (ストライダー飛竜) is a port of the coin-op for the NEC TurboDuo, a version of the PC-Engine. This port is infamous for its protracted development, as it was originally announced for the SuperGrafx in 1990.[3][4][5] Its most noticeable changes are new animated cutscenes, arranged Red Book-quality soundtrack, and an optional bonus mission between the first and second stages, set in a desert. Otherwise, the game plays similar to the coin-op. The new cutscenes appear to have inspired the later Strider 2, as both games use similar wireframed maps for their stage introductions.
The new cutscenes flesh out more of the story. Most cutscenes are still shots of the characters, but a few are animated. Some shots are animated through layering and scaling[6], while others are animated traditionally.[7]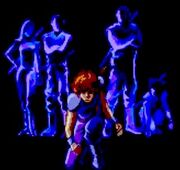 The cutscenes strengthen plot continuity between stages.
Hiryu
communicates with the the
Striders
through a satellite link which provides mission objectives, used mostly as a way to tie stages together. The
Amazon
stage introduction, for example, reveals that Meio's threat is actually a hologram projected from the Amazonian jungle; and the stage completion cutscene shows a shuttle being launched from the South American base to
the Third Moon
, which explains Hiryu's arrival on the orbital station.
The only other major change to the story is in the game's prologue, where the Striders are said to be a secret organization created by the United Nations to deal specifically with the Grandmaster's attack.
Development
Edit
NEC Avenue began work on this port on the SuperGrafx in 1990.[8] PC Engine Fan announced its development in September of 1990.[3] The following January they reported its downgrade to a bi-compatible SuperGrafx/PC-Engine title.[4] That same month, EGM claimed in their letters column that NEC's port was playable, and furthermore, that they had played it during a trip to Japan the previous September.[9] However, the port was still in development in late 1991, with PC Engine Fan claiming it was still only twenty percent complete.[5] Executive producer Toshio Tabeta twice promised gaming magazines that he would shave his head if it was delayed any more. Upon even further delays, he kept his word and did so. On camera.[10]
EGM commented on the delays in late 1992, revealing that the SuperGrafx port had been "downgraded" to the Super CD-ROM² system while still remaining "greatly enhanced".[11] In July of 1994, in an interview with gaming magazine Edge, NEC Avenue's Multimedia Division manager Kimihisa Usui claimed that both the SuperGrafx's low sales due to its high price point and publishers' lack of support for the system caused NEC to to produce a standard PC-Engine port instead. At a later date, they decided to use the Arcade Card feature to improve the conversion.[8] Finally, this port was released as a regular CD-ROM² for the Arcade Card, a full four years after the SuperGrafx HuCard's announcement in PC Engine Fan.[1]
As its development was poorly documented in the West, many rumors arose about NEC's "lost" SuperGrafx port. These rumors encompassed everything from the existence of rare, working betas with superior graphics to suicidal programmers.
Existence of Playable Alphas
Edit
The demotion from SuperGrafx to Arcade Card was virtually unknown in the West. Without this knowledge, many have searched in vain for the alphas of NEC's Strider port. TurboGrafx enthusiasts have frequently insisted that a specific number of prototypes exist. These rumors can be traced to a 1997 post on the Turbo List listing five EPROMs in circulation, all but one of which were accounted for.[12] Another fan, Daniel Riley, claimed there were four copies of a three-level playable alpha.[13] Others have scoffed at the notion of prototypes, citing the lack of hard evidence as proof that they never existed.[14]
In the end, the argument is moot. The CD-ROM² port is a downgraded version of the SuperGrafx port and reuses its assets, as gaming magazines and gaming journalists in both the East[3][4][5] and West[9][10][11] have attested.
Superior Graphics
Edit
It is frequently thought that the alphas would have been "better than the arcade". This would have been objectively impossible. CPS-1 specifications far outweighed the SuperGrafx' capabilities. However, it's important not to take this claim too literally. Gaming magazines of the time often used the phrase "arcade perfect" to denote a superior port that surpassed expectations for a given system, and fans of that game system may simply be reusing journalistic hyperbole. Thus, it's uncertain how this port would have looked on a SuperGrafx. What is certain is that the released version does not live up to the praise used to describe the alphas.
Suicide Rumor
Edit
It has also been repeated ad nauseam that someone killed themselves during the development of NEC's Strider port. This rumor owes its origin to a blurb contained within Videogames.com's 1997 article, "The History of Street Fighter", which claimed a "former Capcom employee" under "heavy pressure" to surpass the Genesis port "cracked under the stress and wound up in a mental hospital", whereupon Hiryu was made to toss a teddy bear during his appearance in Ken Masters' Street Fighter Zero 2 stage, as "a reference to the employee's intractable condition".[15] Gaming site Ralph Space repeated this "completely unsubstantiated rumor", embellishing it with an addition from "very trustworthy sources" who said "one of the programmers took his own life in a bout of depression allegedly caused by the poor quality of the game".[16] From there it spread like wildfire, to Strider-Otaku and beyond.[17]
The above remains unconfirmed. No one was ever named, and the lost Capcom programmer was not any of the following Strider creators:
Kouichi Yotsui, designer of the coin-op. He neither cracked nor killed himself. When asked about this rumor, he said "only an amazingly small part" of him thinks the rumor is true, and that the teddy bear's appearance was probably just the Street Fighter Zero 2 staff "goofing off".[18]
Masahiko Kurokawa, designer of the Famicom version. He later worked on Mega Man 3 and wrote the Tomba! series.
Tatsumi Wada, illustrator of the 1988 Moto Kikaku manga. He illustrated several more manga series and was alive at least until 1997.
Toshio Tabeta, the NEC port's executive producer. Although shaving his head for the magazines probably inspired the story of the programmer-gone-mad[10], he is very much alive and well. He is currently President of Japanese game developer Prototype.[19]
The graphic designer who liked teddy bears. There is a teddy bear power-up hidden in stage three of the coin-op. The graphic artist who put it there later married Keiji Inafune.[18]
Differences with the Arcade
Edit
This port is a mostly faithful, expanded version of the arcade game. It contains a new stage, animated cutscenes and Red Book audo tracks for stage music and cutscenes.


CPS-1 native resolution: 384 by 224. Viewable gameplay area: 384 by 224.
TurboDuo native resolution: 256 by 224. Viewable gameplay area: 256 by 208.
(Vertical viewable gameplay area is limited by the opaque HUD.)
As displayed on an arcade monitor or  home television using a 4:3 aspect ratio resolution.
List of Changes
Edit
The new stage, "Oil Fields", an oil refinery and military desert camp used by the Kazakh Federation. The stage includes a few new enemies and two original bosses: a commander who summons a giant monster resembling an ant lion larva, and a soldier who drives the Sovkhoz Я tank, reminiscent of the T-48 from the manga.[20]
A life unit associated with one of the Options will now move along if the player restores lost life, moving it always at the front of the lifebar instead of staying in its original place. This removed a strategy in which one could get hit on purpose and then refill the lifebar after obtaining an Option, protecting it until Hiryu dies.
Slower gameplay and progression, including noticeable slowdown, pauses and invisible barriers.
As with the Genesis port, both Strobaya and Solo must be defeated before you are allowed to continue.
Fewer on-screen enemies.
Alternate dynamic difficulty behavior.
Fewer difficulty levels.
Lower game difficulty.
Some objects and enemies have different score and HP allocations.
Double the amount of time allocated between each checkpoint.
Altered checkpoint locations.
More checkpoints.
You have to restart the stage you died on from the beginning if you continue.
Modified enemy and object placement in many places.
Removal of the Tyrannosaurus enemy from the Amazon stage.
Altered collision detection has been implemented for the foreground tiles and sprites, affecting gameplay.
Lower native display resolution.
Contains exactly one quarter of the tile graphics resolution of the arcade version in the foreground layer.
Increased sprite pop-up and flicker.
Altered game boundary scrolling limits and general scrolling behavior.
Only one background scrolling layer is used in the entire game (Flying Battleship Balrog).
A redesigned opaque HUD has been added.
All of the graphics have been redrawn or edited to accommodate the game's lower resolution and color palette, subtlety changing their appearance.
A few characters were redesigned. While some characters received just minor updates, others, like Captain Beard Jr., went through a considerable redesign.
Heavily modified (redesigned) sprite movement and behavior for all sprites.
Far fewer frames of animation for sprites.
No animating tiles used in graphics layers.
Missing foreground and background tiles and objects.
Altered color palette.
The stage layout, design and appearance has been modified in many areas.
The invincibility powerup's glowing and shadow effect is removed.[7]
The Red Book audio tracks reinterpret most of the themes from the arcade and add three original themes: two for the new stage[20] and a third replacing "Hiryu" from Stage 05.[21]
A vocal introduction precedes all boss fights, accompanied by an animated mugshot of the enemy.
Fewer in-game sound effects.
Sound effects have been redesigned.
Lower sound quality used for sound effects.
The Japanese language is used throughout the game, completely dropping the originals multilingual aspect. The game's interface however remains in English.
Reprogrammed game by Dice Creative, Ltd.
Removal of the highscore initial-input and highscore screens.
Gameplay attract sequences have been replaced with an animated introduction.
All stages are preceded with an animated cutscene and followed by an outro screen.
Removal of the hidden panda.
Single player only.
The port's staff credit roll features all the names of the staff members written in kanji.
Unregistered trademark symbol on game title.
References
Edit
↑ 1.0 1.1 1.2 1.3 1.4 1.5 1.6 1.7 Dice Creative, Ltd. Strider Hiryu (in Japanese). (NEC Avenue). PC Engine CD-ROM². Level/area: End credits. (September 22, 1994).
↑ "Company History 会社沿革" (in Japanese). Dice Creative Inc. Retrieved 21 Dec 2010.
↑ 3.0 3.1 3.2 (September 1990). "Strider Hiryu" (in Japanese). PC Engine Fan (Tokyo: Tokuma Shoten). Retrieved 13 Dec 2010.
↑ 4.0 4.1 4.2 (January 1991). "Are SG Games Being Withdrawn?" (in Japanese). PC Engine Fan (Tokyo: Tokuma Shoten). Retrieved 13 Dec 2010.
↑ 5.0 5.1 5.2 (September 1991). "Strider Hiryu" (in Japanese). PC Engine Fan (Tokyo: Tokuma Shoten). Retrieved 13 Dec 2010.
↑ Dice Creative, Ltd. Strider Hiryu (in Japanese). (NEC Avenue). PC Engine CD-ROM². Level/area: Kazakh. (September 22, 1994).
↑ 7.0 7.1 Dice Creative, Ltd. Strider Hiryu (in Japanese). (NEC Avenue). PC Engine CD-ROM². Level/area: The Flying Battleship Balrog. (September 22, 1994).
↑ 9.0 9.1 (January 1991). "A Complaint!???" (in English). Electronic Gaming Monthly 18 (Sendai Publications). Retrieved 13 Dec 2010.
↑ 10.0 10.1 10.2 Gifford, Kevin (July 14, 2009)."(I ♥ The PC Engine) Fantasy Zone" (in English). Magweasel. Retrieved 21 Dec 2010.
↑ 11.0 11.1 Aki, Terry (October 1991). "International Outlook" (in English). Electronic Gaming Monthly 39 (Sendai Publications).
↑ Lyon, Mike (05 Jan 1997). "SG Strider: The Scoop". Turbo List Digest. Retrieved 27 Dec 2010.
↑ Wright, Lawrence. "101 PC Engine Secrets (* Or Maybe Less)". NFG Games. Retrieved 27 Dec 2010.
↑ "The History of Street Fighter: The Games: Street Fighter Alpha 2". Videogames.com. Waybacked. Retrieved 29 Dec 2010.
↑ Ralph. "Ralph's Mysterious Video Games Page: That Guy Who Killed Himself Over Strider". RalphSpace. Waybacked. Retrieved 29 Dec 2010.
↑ Varley, Michael. "S T R I D E R - O T A K U --HISTORY--". Strider-Otaku. Retrieved 29 Dec 2010.
↑ 18.0 18.1 Scion; Dire 51 (24 April 2010). "Interview with Kouichi "Isuke" Yotsui". LSCM 4.0. Translated by Gaijin Punch. Retrieved 24 Oct 2010.
↑ "About Us" (in Japanese). Prototype, Inc. Retrieved 31 Dec 2010.
↑ 20.0 20.1 Dice Creative, Ltd. Strider Hiryu (in Japanese). (NEC Avenue). PC Engine CD-ROM². Level/area: Extra Stage. (September 22, 1994).
↑ Dice Creative, Ltd. Strider Hiryu (in Japanese). (NEC Avenue). PC Engine CD-ROM². Level/area: The Third Moon. (September 22, 1994).