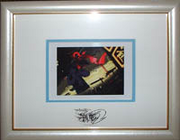 Strider Hiryu Portrait
(ストライダー飛竜 リトアート) is a special item made for
Strider 2
, a framed art piece from one of the in-game cutscenes, as drawn by the game's main artist Harumaru. The item was one of several goods sold by Japanese company
Dream Vision
(ドリームビジョン) as a limited-sale exclusive in their booth during the 2001 Tokyo Game Show.
It received a total 100 units limited-run, each one with an identifying serial number. It was produced alongside other Capcom-related merchandise, including another similar portrait based on Darkstalkers art.
External Links
Edit
Ad blocker interference detected!
Wikia is a free-to-use site that makes money from advertising. We have a modified experience for viewers using ad blockers

Wikia is not accessible if you've made further modifications. Remove the custom ad blocker rule(s) and the page will load as expected.