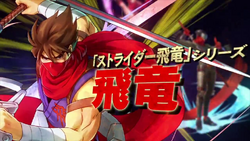 Today was the official announcement of Project X Zone 2: Brave New World, sequel to the 2012 Namco-Bandai/Capcom/Sega crossover, Project X Zone (which, story-wise, was a direct follow-up to 2005's Namco x Capcom). And Hiryu is among the cast confirmed in its official trailer, sporting its most iconic appearance from Strider 2/Marvel vs. Capcom. Hiryu is apparently a "Pair Unit" fighting together with Sega's fellow red-scarf ninja, Hotsuma from the Shinobi series.
From Famitsu's coverage of the reveal, Hiryu's seiyuu has been confirmed to be Kosuke Toriumi, Hiryu's veteran voice actor who has played him (and Hien) back in Strider 2 and Namco x Capcom. One screenshot (seen below) also confirms that Bounty Hunter Solo and the Flying Battleship Balrog (both in their Strider 2 incarnations) will make an appearance.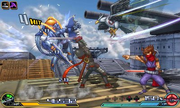 The game is slated for release internationally in Fall 2015.
Ad blocker interference detected!
Wikia is a free-to-use site that makes money from advertising. We have a modified experience for viewers using ad blockers

Wikia is not accessible if you've made further modifications. Remove the custom ad blocker rule(s) and the page will load as expected.